Breakthrough to You
Spring Retreat 2020
Friday, Saturday, Sunday : March 13, 14, 15, 2020
Step out of your routines and shake off the winter with a spring retreat just down the road at the Prama Institute in Marshall, NC – just north of Asheville. This retreat will give you the space to concentrate, the training to focus, and the time to relax and enjoy it all without pressures or distractions.
See you in the Spring,
The Jens
---
Meet your hosts: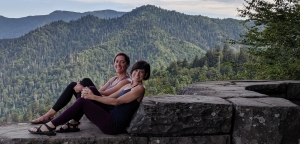 Jennifer McIntee teaches in Western North Carolina, based out of Franklin, NC.
Jennifer Beyt Coffin teaches on the other side of the mountains in Knoxville, TN.
Both teachers have extensive training in a variety of yoga disciplines and both are regular studio teachers as well as offering private and specialty classes on a regular basis.
---
The retreat:
Exploring how a physical, asana-based practice will refract all of the other aspects of yoga from breathing to concentration
Experiencing the importance of props (wheel, bolster, straps, blocks, and partner yoga) as a way of organizing and understanding body mechanics and leverage in our practice because leverage helps you get better at being you
Finding fullness in the withdrawal from ordinary life and the solitude which a weekend of yoga and meditation can offer
Nourishing body and soul with an abundance of compassionate and thoughtful teaching, carefully curated meals, and space for deep meditation
The accommodations:
All meals are included in the retreat and are vegetarian. Vegan and/or gluten free diets can be accommodated as requested.
All accommodations are communal: bunk rooms have multiple bunks in the same room, semi-private rooms have two (non-bunk) beds per room.
While freedom from technology is encouraged, a wifi signal is available and cell phone use is permitted.
Cost: $450 / person
2 nights
6 meals
6 yoga & meditation classes
1 seminar
Free use of the 150 acre grounds of the Prama Institute
Price is for a single bed in a bunk room. Semi-private accommodations are available for an additional cost – see below.
Reserve a Spot:
$200 non-refundable deposit to secure your space – use the buttons below to sign up and pay. Balance is due by Feb 14, 2020.
This deposit is non-refundable. If you need to withdraw from the retreat before March then we will work together with you to fill your seat. Once filled, we will issue a refund.
Accommodations in a bunk room
Any remaining balance is due by Feb 14, 2020
Accommodations in a semi-private room
Any remaining balance is due by Feb 14, 2020
Ready for a weekend getaway?
Fill out the contact form below and express your interest. Ask any questions you may have or just say "Sign me up!" and we'll get in touch to reserve your spot.